"I have said this many times, but The Pudding
just gets us. Immediately, we had a feeling of
confidence and safety. We told them what we
wanted to achieve, and The Pudding delivered."
In this instalment of The Client Chronicles, we chat with Selina Murphy, Director of Talent and Culture at Carton House, a Fairmont Managed Hotel.
Carton House has been a long-time client of ours at The Pudding. From campaigns to brand architecture and most recently culture work, we've partnered with the team at Carton House across a range of projects.
Here, Selina chats openly about the process of evolving their company culture and the results of our work.
1. How did you first come to
hear about The Pudding?
Part of the 2018 restoration of Carton House was a brand refresh. This included our logo and our values. The hotel was going through a refurbishment, and the brand needed alignment. It was at that point that I was first introduced to The Pudding.
2. Why did you seek out The Pudding
for this project specifically?
Last year, we began looking at our culture. It was important that we were working with a company that knew and understood our brand and our values, and The Pudding did. From there until the present day, we have worked hard on our culture and development. The Pudding has been there every step of the way.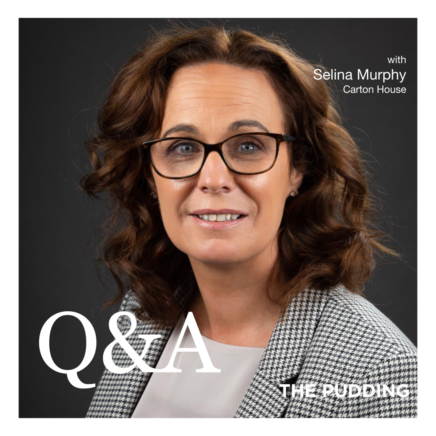 3. What was the experience like
working with The Pudding?
I have said this many times, but The Pudding just gets us. Immediately, we had a feeling of confidence and safety. We told them what we wanted to achieve, and The Pudding delivered. There was an understanding between parties that it is the people that are critical to the success of our business. It was a very collaborative experience, and we always felt like we were moving forward.
4. What has been the impact of
the work complete to date?
The culture development work we've undergone with The Pudding has been an incredible learning experience. Starting with the management workshops, there was feedback – both negative and positive – and that has helped us grow, improve and develop.
I am really proud of what we have achieved together. The Pudding has continuously worked with our brand guidelines throughout this new phase and that was important to us. The past and present projects we have completed together sit side by side seamlessly. As an organisation, our culture has been enhanced. We are living and breathing our culture, and this is a real positive as we welcome new people into the business.

5. Would you recommend working
with The Pudding?
Absolutely. The Pudding listened to us, and that is very important for a company in a rebrand and culture situation. The Pudding takes on board comments and feedback and swiftly reacts. As we had a lot of shared history, it didn't feel like a new partnership. It felt like a continuation of a relationship – that is rare.