Employer branding and company purpose:
two key areas covered in any robust business
strategy. When combined, they can be the catalyst
for great success internally and externally.
Here's why aligning your employer branding with your company purpose is no longer an option, but instead a necessity.
Never before has employer branding been such a talk topic – a knock-on effect from a century-defining couple of years that have reshaped people's attitudes to work and life.
Today, aligning your employer branding with company purpose is not only an option but a necessity to grow a dynamic and productive company culture that enables businesses to scale creatively and commercially from the inside out.
The theory
An employer brand is a fundamental part of business; every brand in existence has one, regardless of whether they have worked actively to help create or shape it. It is hammered down by your reputation and employee advocacy, or lack thereof.
Those that are doing it right realise the essential synergy between their employer branding and company purpose. Fusing these two elements to exist and flourish in harmony and complement each other by actions, not just words is a tool for vast success.
At The Pudding, we work with some of the world's largest brands to help them drive effective employer brand campaigns – those that help them not only attract but retain top talent.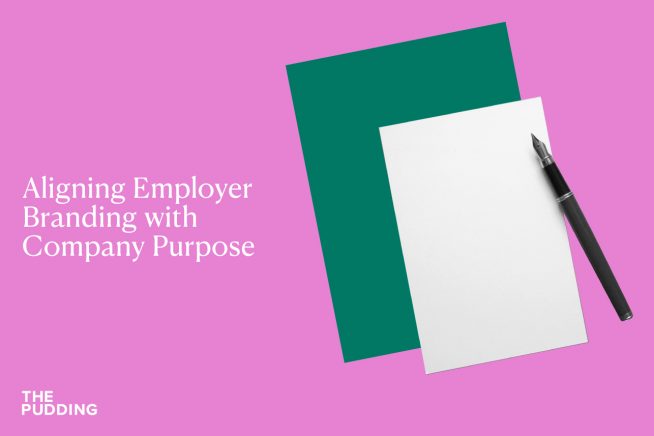 Brand Spotlight: Patagonia
Aside from our client work in employer branding, here is one of our favourite brands doing it right: Patagonia.
As stated in its brand purpose: "Patagonia is in business to save our home planet." Seamlessly bridging the gap between their consumer and employer brand, Patagonia has been able to attract top talent by offering an employer brand to prospective hires that stays true to the brand's ethos and sustainable commitments.
Hands-on education days and workshops in sustainability are scheduled for all new hires at Patagonia ensuring cohesion between its company culture and brand purpose.
Other forward-thinking approaches to company culture include no employee performance reviews, every other Friday off for staff, and reading resumes from the bottom up so to see a prospective hire's interests first – a genuine interest in the planet and outdoors are a must.
With all of this in mind, it comes as no surprise that this easygoing lifestyle brand has an impressively low turnover rate of 4% per year, according to Forbes, and that 95% of their employees are proud to work there, according to Great Places to Work.
The impact
As for the impact, the proof is in the pudding. Brands like Patagonia who live their company purpose in every aspect of their business, including their employer branding, are more likely to make their mark, own their space, and attract the best in the business.
In fact, it appears that the more the outdoor clothing gear and garb brand Patagonia rejects mainstream expectations and conventional processes, the more it grows commercially. Patagonia is living proof that in order to stand out in a crowded market place you need to find that delicate balance between your key differentiators, a compelling brand purpose, a dynamic company culture that lives its purpose in everything it does, and most importantly: the ability to communicate that to the world with effective employer branding.
If you are interested in accelerating your brand's growth and attracting and retaining top talent then you need to align your employer brand and company purpose. Get in touch with us today at proof@thepuddingbrand.com.