As worldwide loosening of COVID-19
restrictions heralds a return to brick and
mortar offices and working environments,
we explore the vitals for employers
navigating this transition.
Out of the infliction of Coronavirus, came a new perspective on the way we work. Offices around the world were forced – to the fear and dismay of many – to empty and reshape online, in the form of remote working. Two years on, a return to full-time, face-to-face, in-office working is finally possible. However, that fear and dismay have largely transcended into an appreciation of the value – economic, environmental, and personal – of working remotely. So much so that 90% of organisations will be implementing some form of a hybrid-working strategy in the future, a recent McKinsey study finds.
Managing this transformation successfully, no matter to what extent your company's workforce is remote or in-person will heavily rely on developing a culture of transparency, growth, and flexibility.
Growth
Fostering a culture that champions growth has been, and will continue to be pivotal to success as rapid change to industry trends and employee expectations look to be mainstays of the post-pandemic world. The winners of the pandemic have been future-focused leaders who have come to see risk as a 'mainstream element'; their capability in embracing flexibility and adaptability has set them apart, according to Wattson Wyatt.
By leaning into these qualities brands can become empowered and will be rewarded with the means to navigate the uncertainty of their markets and the business landscape for years to come. Those that chose to feed this culture of growth during the pandemic nurtured moments of "mentorship, coaching, idea sharing, and coworking", according to McKinsey's research. And, not only do these moments help to capitalise on the opportunities emerging from the pandemic, but they greatly help tackle the challenge that "The Great Resignation" poses for organisations.
A LinkedIn Learning's 2021 Workplace Learning Report uncovered that 91% of employees who learn together are more successful in work and that 92% feel more of a sense of belonging to their work and workplace as a result of the co-learning.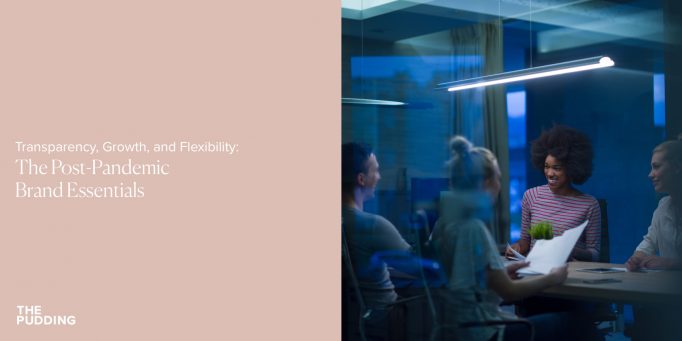 Flexibility
Flexibility has been at the heart of navigating the pandemic, and it will be a central brand value to creating a successful return to the office. Automattic, a company that pioneered "Asynchronous work", allows their employees to work whenever they want, from wherever they want, to great success. Their CEO, Matt Mullenweg, however, urges that "agility to get together in-person" will be the number one tool for businesses in 2022.
The Wall Street Journal's suggestion that "off-site is the new return to the office" might work for some companies, whereas Queen's University of Kingston research uncovers that only 30% of under-40s are happy to continue working from home after the pandemic. The reality: in order to support and nourish a diverse workforce, flexibility will need to become a core brand value.
Transparency
There will be no one-size-fits-all formula when it comes to deciding on the remote to in-person ratio. What is more important is the way that formula is communicated. A strong, clear brand narrative, which engages employees, is likely to achieve profit margins five times those of their competitors, according to a Watson Wyatt study.
When it comes to the discussion around an organisations' future-of-work plans, this transparency is no less important. We are living and working in an era of burnout which has propelled "The Great Resignation". The common denominator, according to McKinsey, is a lack of hybrid work planning and communication from leadership teams. When organisations do not uphold transparent comms, employees are 2.9 times more likely to report burnout, the same McKinsey report says.
As stated in our recent feature on The Future of Brand: a dynamic, purpose-led employer brand is vital for hiring the talent to bring you through this change. It's also vital in aligning and motivating current employees. When employees feel that a brand's purpose is built from the inside out with people and culture as its North Star, employees are 87% more likely to stay, 77% more engaged, and 93% more likely to advocate for their company, according to McKinsey's research into Organisation-Employee purpose alignment.
The key takeaways
Working from the inside out, brands will reap the benefits, and drive growth, flexibility and transparency – the cornerstones of successful companies in 2022. Those that take time to pause, reflect and listen to their workforce will bear the fruits of an organisation of agility and openness, safeguarding their team for the future, while nurturing an employer brand that top talent will want to be a part of in years to come.
If you'd like to discuss how we can help your business
build a culture of transparency, growth and flexibility,