"I have said it before and I will say it again:
I would recommend working with The Pudding
to anyone. The proof is in The Pudding –
it's in the brand. With ALTU, we got exactly
what we wanted."
This week on The Client Chronicles, we caught up with Jack Byrne, Associate Director of ALTU (formerly Lafferty Architects), ahead of the launch of their rebrand.
Diving into discussions surrounding the brand development process and the key learnings among the leadership team, we take a closer look at how ALTU came to be.
1. Can you tell me about yourself and your business?
The company itself started 25 years ago this year. It grew out of Dundrum Town Centre being built and there being a need for a company to provide architectural support, as well as project management services. That was the genesis of the company started by Pat Lafferty, and it grew from there.
Part of our long-term growth was the realisation that both the architecture and project management sides of the business would be able to better chase their own business goals if two separate companies were formed. As part of that, Lafferty Project Management kept the name Lafferty. Something that we – the architectural side – always wanted to do was to create a more design-orientated brand. That is how we ended up here, and how we became ALTU Architects.
2. How did you first come to know about
and work with The Pudding?
The Pudding came recommended through our Managing Director, Jim Gallagher. We had gone out to a couple of different people but were really impressed in the interview process with the creativity that came through when talking to The Pudding. We got a real sense of excitement around the brand. That is what we felt we needed: people who think outside the box.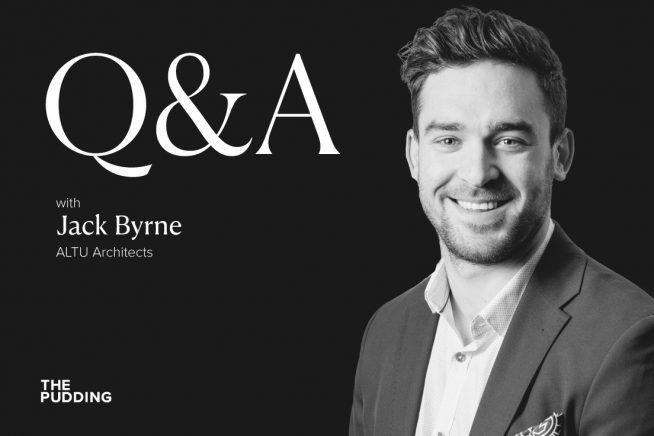 3. How did you find the process of working with
The Pudding when developing ALTU?
We found the process of working with The Pudding very similar to our own internal processes interestingly. The first part was an understanding piece, where we set the foundations for the design. This was really strong in terms of approach: multiple workshops, getting to know our brand, and who we are. The Pudding provoked us to come back with answers and to get in line with our own company vision: what we thought and where we wanted to go as a brand.
From there, it was the start of a process that we really enjoyed. We are quite difficult to deal with because we are designers ourselves in a sense, and as a designer, you are always second-guessing anything you make, but the result is an unbelievable brand that we're delighted to launch.
4. As a leader, what was your biggest learning
from working with The Pudding?
It turns out there was a lot of alignment internally that we did not realise we had until we worked with The Pudding. Originally we all thought we had very different ideas in terms of where we were or where the brand was going. There are eight different people on our management team, so this was a big learning for us. That foundation piece was important because if it's not set up correctly the brand or the design can be quite shallow.
The other part was learning about how to go through a rebrand process, which we had no idea how to do. We felt we were guided very carefully and thoughtfully throughout the process by The Pudding, so we were really happy with that.
5. Can you talk me through the end result of
working with us at The Pudding?
We wanted a brand that was not like a lot of other architectural firms. For many architects, their name is the name of their directors, but we didn't want to go down this route. We wanted to create a brand around a word that was succinct, catchy and meant something to us. That was where ALTU came from. The brand itself reflects who we are and where we want to go. We are a company that is based primarily around design and the brand represents that, but it is also a brand that everyone can get in under in terms of upcoming young designers alongside long-standing experts in the industry.
We are really excited about it. There is a lot of change going on now, there are a lot of key projects that are big upcoming projects in the pipeline. It feels like the brand is coming at the perfect time.
6. Would ALTU work with The Pudding again, and would
you recommend working with the Pudding to others?
Absolutely – 100%! I have said it before and I will say it again: I would recommend working with The Pudding to anyone. The proof is in The Pudding – it's in the brand. With ALTU, we got exactly what we wanted. The process along the way can be challenging and sometimes there are bumps in the road but any good design comes from hardship, I believe.
We were always able to have a good honest and open conversation and relationship with The Pudding and anything that popped up was handled in a very professional manner. We are very happy and so excited to launch the brand.