The business landscape of today is loaded
with its own unique trends and traits.
Businesses that choose to approach
this new territory with an astute
awareness of the ways brand can
add value to businesses are set to
soar and scale. Read on to find out how.
As the world awakens from the past two years of covid-related dormancy, it is time to embrace the exciting and opportunity-filled business landscape that awaits.
Brand will be a core component of this. But what, you may ask, is the return of the investment? These are five core ways brand can bring true value to your business.
5. Value during times of crisis
In times of unrest and crisis, brand has proven its value in helping businesses weather the storm. Actively shaping brands to meet changing customer needs is a strategy that fed the enormous growth of companies such as Netflix and LEGO during the 2008 Economic Downturn, an Irish Times article uncovers.
The Covid-19 pandemic also saw companies that invested in their brand – namely companies that repositioned to meet the lockdown customer in their new existence – tiding the storm more successfully than those who didn't, according to the same publication.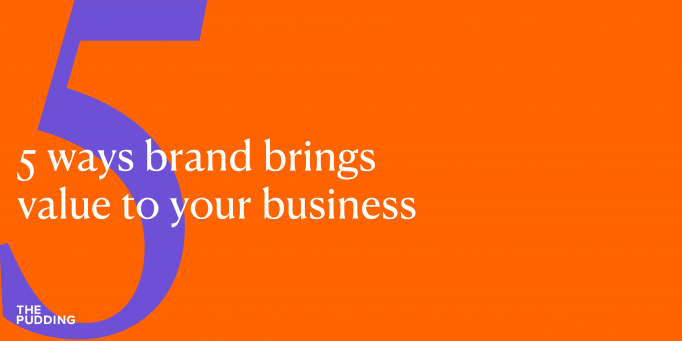 4. Value to your employees
People are the essence of every brand. 70% of employees feel that their purpose in life is defined by their work, a McKinsey report finds.
Those who achieve a sense of symbiosis with their work rank higher on engagement, achievement, and commitment than their counterparts who do not. To have a strong, aligned employer brand is to have a connected, optimised and effective workforce.
3. Value to your prospective employees
The Black Death of the 14th Century – a pandemic that paved the way for The Renaissance – left a lasting impact that centred around the type of work people did, and for what wage. In recent times, Irish Economist, David McWilliams, resurfaced these learnings while forecasting the "Great Resignation".
It is inevitable that the connection between where people work and their sense of identity has been tightened in the past two years. Acquiring and retaining talent will be contingent upon companies building culture from the inside out through a strong employer brand.
2. Value to the bottom line
"The Long and the Short of It", a fifteen-year study by Les Binet and Peter Fields on marketing effectiveness, found that brand-building is the number one driver of long-term business growth and profit.
In a world where people are placing more and more importance on aligning their values with those of the companies the companies they buy from and work for, the value of brand will continue to grow into the future.
1. Value to your customers
We live in an era of mass consumerism. The act of investing in a brand is no longer seen as the simple satisfaction of needs. Rather, it is an expression of identity, and consumers' sense of themselves and their agenda has become bound in the purchases that they make.

Almost half of consumers are willing to pay more for a brand with positive values, according to a MediaCom report, and 40% of customers have cited a brand's values or behaviours as the reason for their decision not to purchase.
If you are interested in discussing how we can help your
brand add true value to your business, please
get in touch at proof@thepuddingbrand.com.