In this instalment of Team Talks, we catch up with Maria Gleeson, our Chief Operating Officer, to learn a little more about her career to date and what she loves about her job at The Pudding.
1. Tell us a little bit about yourself.
I have an MBA and am a Solicitor, yoga teacher, marathon runner, and dog mommy. I love hiking and have climbed Kilimanjaro, trekked to Machu Picchu, Colca Canyon, and the Amazon and, more locally, I have climbed Carrantuohill several times.
2. Career-wise, what's the journey been like?
I started working at a young age in Devito's newsagents in Offaly. I went on to study Business and Law at Griffith College before working in Anderson & Gallagher solicitors. As soon as I had 2 years post qualification experience, I took a year out to fulfil my ambition of travelling the world.
When I returned I got a job as an in-house solicitor in Aviva and then in 2016, I moved to Limerick and into the role of Business Development Manager in Holmes O'Malley Sexton LLP. This allowed me to really understand the functions of a business, the financial side, and the importance of brand and positioning.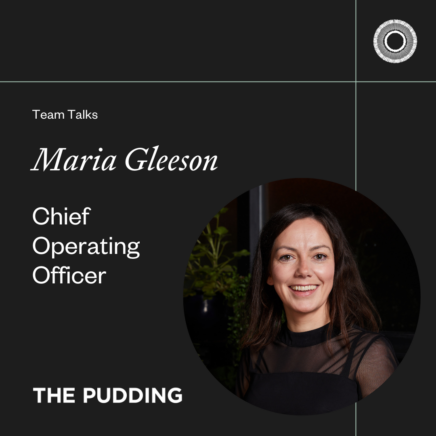 3. And what about life at The Pudding?
I joined The Pudding in 2022. I had heard Gillian Horan, CEO, speak at an event some years previously where her "Inside Out approach" resonated with me. It was the articulation of what I had seen and learned about other successful businesses along the way.
Over the years of watching the growth of The Pudding, the incredible quality of their award-winning work and how the team presented and conducted themselves, it became clear that as a business it very much aligned with my values.
4. You're the COO of The Pudding
– what does that entail?
Basically, I oversee The Pudding's ongoing operations and procedures. I have responsibility for the efficiency of the business.
My goal as COO is to secure the functionality of The Pudding business to drive our ambitious growth plans.
5. How would you describe The Pudding,
and what differentiates us from other organisations?
It is true that The Pudding is a very creative space. I thought that this would be quite a change for me coming from a more analytical legal world but what I have found is that our team is super focused on delivering impact for our clients and their organisations. 
If you're interested in a career with The Pudding, contact proof@thepudding.co