Employee advocacy is one of the most valuable tools any business has in its arsenal. It is not something that can be bought; it comes from businesses that live their purpose from the inside out and nurture inclusive and dynamic workplaces and company cultures.
Employee advocacy is a major talk topic in today's marketplace. Many brands, however, still struggle to not only activate but understand the power of it.
Effective in driving businesses forward into the future, attracting talent, and building a robust reputation, your workforce plays a crucial role in the success of your brand.
In this article, we delve into the concept of employee advocacy, what it means, some tips for enhancing your brand's employee advocacy, and those who are doing it right. 
What is employee advocacy?
Employee advocacy is how an employee represents their work internally and externally. It is how they speak to their family at home or their friends in the pub about their employer; it is how they truly feel about their job.
In a nutshell, employee advocacy is the pride an employee feels about being associated with their employer, and their willingness to share this with others. The most common medium for employer advocacy is, of course, social media.
Tips for enhancing your
brand's employee advocacy
Much like reputation, employee advocacy is built over time. It is not something that can be achieved overnight. It is the result of a brand living up to its core values, providing an inclusive and diverse workplace, and developing positive company culture. All of these elements are inherent to building a brand that will inspire a workforce to endorse their employer.
What many brands overlook is how instrumental employees are to a brand's success. It's no longer enough for brands to state their purpose – it must be lived inside and out. Some tips to enhance employee advocacy include:
Leadership buy-in: Advocacy programs that achieve the most success are those with leadership buy-in. Creating the right environment is key to increasing and maintaining higher user adoption rates. Leaders help elevate the brand and give validity to the program.
Giving back: More forward-thinking approaches to encouraging employee advocacy are whereby companies give back to their staff or the community in more holistic ways. Examples of brands who have nailed this include An Post. During the pandemic, this brand gave out free postcards to encourage people to stay in touch with friends and family during difficult times. They also had their postmen and women check in on those most vulnerable while doing their rounds.
Referral programs: Traditional methods to boost employee advocacy include referral programs. "These offer financial rewards, vouchers or a donation to a charity or to employees who put forth a candidate for job consideration. It is one of the most popular systems in place surrounding employee advocacy. I would advise developing a fair and equal system that truly involves all employees. And make sure to clearly communicate the details in numerous platforms regularly." explains Gillian Horan, CEO of The Pudding.
It is, however, important to explore the downsides of employee referral systems, too. According to Beamery, "female and minority applicants seem to be less likely to receive an employee referral than white males". Therefore, ongoing reviews to ensure equal opportunities are vital.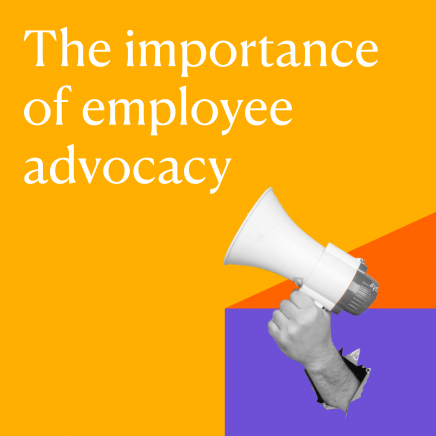 The impact
If a brand does not live up to good standards and has an unsatisfied workforce, this can greatly affect its reputation. An example of this would be Chipotle, the U.S. Mexican fast-food chain. Earlier this year, the internet blew up when staff closed up shop and signposted the door with a statement claiming "borderline sweatshop conditions".
Not only can employee disapproval deter new talent from considering a brand as an employer, but it can also impact their reputation in the marketplace and the likeliness of customers investing with that brand. To top it off, Gallup reveals that disengaged employees have 37% higher absenteeism, 18% lower productivity and a whopping 15% lower profitability to the company. 
The key takeaway here is that employee advocacy is crucial. It can make or break a brand; it can drive business into the future or stop it in its tracks. While there are more traditional routes such as schemes or referral programs, businesses that are agile and forward-thinking in their approach may see much greater and more authentic employee advocacy.