"The Pudding are just amazing – they got it
straight away and they listened to us. Sometimes
the act of listening may not be there but the
constant communication enabled us to build our
relationship with The Pudding and become more
comfortable with each other, ensuring that the
partnership was successful. We will definitely
work with The Pudding again."
This week, we caught up with our client Gina Halpin, Head of Information and Inclusion at Youth Work Ireland – the largest youth organisation in Ireland, engaging with over 76,000 young people every week.
Following the pandemic, the organisation was facing a challenge: to reinvigorate the national youth club network, raise awareness amongst decision makers of the need to invest in local youth clubs and attract new volunteers. That's where we came in.
In this instalment of The Client Chronicles, we learn all about Youth Work Ireland's "Feel Good Collective" campaign.
1. Can you tell me about yourself and
Youth Work Ireland?
I am Gina Halpin, I have worked with Youth Work Ireland for 18 years and I am Head of Information and Inclusion. My job revolves around developing resources, tool kits, media presence, advocacy and campaigns and social media, as well as running events and conferences.
Youth work Ireland is a federation of 20 members of youth services that deliver direct support to young people depending on the local needs. This can range from homework clubs to drug and alcohol awareness programs, sexual health advice, 1:1 counselling and mental health support.
2. How did you first come to know about
and work with The Pudding?
A few years back, we were introduced to Gillian Horan of The Pudding, and we have worked with them on projects since. When we first partnered, we were developing an equality program. We got in touch with The Pudding and they designed an entire campaign for us around this theme, from the logo to style guides and digital assets. We then applied that branding to everything for our Equality 2017 National Conference and our communications strategy including advocacy material and the development of resources for youth workers.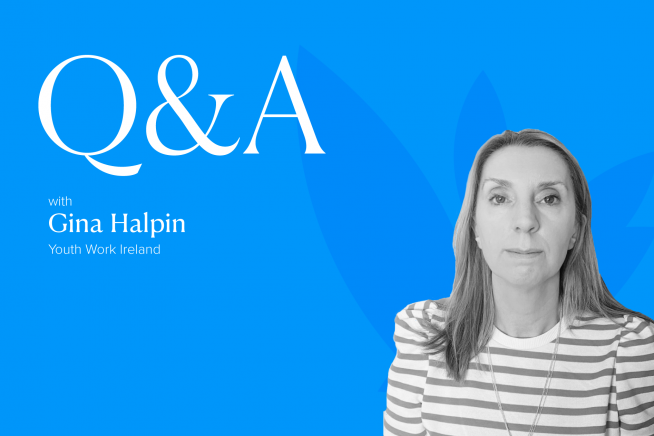 3. Can you tell me about the challenge you were
faced with when you came to partner with
The Pudding on this occasion?
Having come through the pandemic a lot of our members found there was a drop in youth club participants. Our work had gone online because we couldn't physically meet and there was a reluctance around volunteers getting back in the room with groups.
It was a two-prong challenge: we had to first provide the youth clubs and then engage and recruit new volunteers to be able to run them. We had developed a business plan to reinvigorate youth clubs that included an awareness and recruitment campaign. That was the challenge we were facing when partnered again with The Pudding.
4. How did you find the process of working with
The Pudding when creating the awareness
and recruitment campaign?
Because we had done comms development before, we understood the need for strong design work from the onset. For us, it was how The Pudding took our rough ideas and turned them into something that was slick, polished, and eye-catching.
It is always important that the work that we put out communicates a strengths-based approach around working with young people, rather than a deficit. That really came through both in the language and messaging that was created by The Pudding, as well as the tone, the feel, the energy and the movement in the campaign assets.
We also felt that the planning from the onset that The Pudding put into place was fabulous. Nothing ever fell off the radar or felt like it was drifting. It was always moving forward at a good pace and we felt confident that we would meet our early April deadline.
5. Can you talk me through the end
result of working with us?
The end result is the "Feel Good Collective" campaign. It is a fabulous awareness and recruitment campaign with great graphics, and snappy social media guidelines. Where the language wouldn't have been previously very polished, the new messaging is a lot more focused on a call to action; it's strategic and consistent.
Already we can see how we can future-proof this concept, and use it again as an enduring campaign tagline. The youth club workers are wearing the "Feel Good Collective" t-shirts and embracing the idea, and we are looking to develop lanyards and badges – there is a whole scope of other things that we can do around this idea. We're going to get a long time out of this brand campaign.
6. Would Youth Work Ireland work with The Pudding
again, and would you recommend working
with The Pudding to others?
We would 100% work with The Pudding again and absolutely recommend them to anybody and everybody. It was such a positive and comfortable experience. The Pudding are just amazing – they got it straight away and they listened to us. Sometimes the act of listening may not be there but the constant communication enabled us to build our relationship with The Pudding and become more comfortable with each other, ensuring that the partnership was successful. We will definitely work with The Pudding again.