It is safe to say that gone are the days
where the term 'brand' is solely associated with
a logo alone. Saying that, there are still extensive
misconceptions around just how important brand
is on the board agenda. Here are five key ways
your brand brings value to your business.
Since The Pudding was founded in 2014, we have worked to build awareness around the impact of brand and the ways brand brings value to your business. We do this because the results are undeniable – we've seen the measurable metrics time and again.
We approach brand from the inside out because we know that the recipe for success starts from deep within a brand's core, defined and driven by its people and purpose. 
In this insight piece, we round up just five of the ways in which brand brings value to your business.
5. Brand Awareness 
Brand is an all-embracing term comprising every element of your business identity and offering, from company culture to values, service offering to customer experience – and everything in between.
Having a considered brand that strategically targets customers with engaging content, and that delivers on its brand promise is crucial in today's market. By building a strong brand that lives its purpose inside and out you drive brand awareness, which, in turn, adds value to your business. 
4. Employee advocacy
Employee advocacy is another result of a strong brand, and one of the ways that brand brings value to your business. According to Entrepreneur, digital content and social media posts that are shared by team members receive 8 x more engagement than content shared through the brand's business channels. 
To top it off, posts shared by employees are reshared 25 x more frequently than those that are solely shared by the business itself. What this tells us is that employee advocacy bears a huge impact on a brand's success.
One surefire way to cultivate authentic employee advocacy? Build a brand that stands by its word, is true to its purpose, and nurtures an inclusive, diverse and dynamic company culture.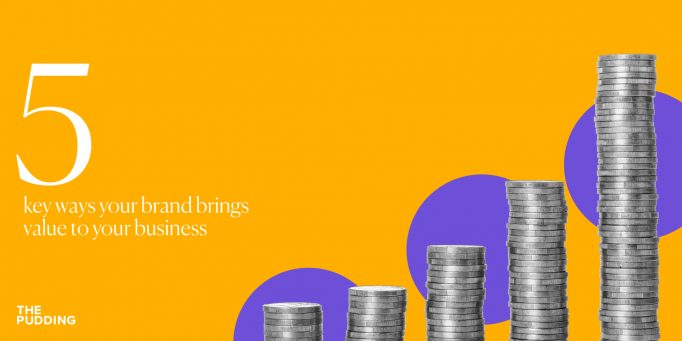 3. Attracting & retaining top talent
The workplace has changed drastically in the last few years – a combination of knock-on effects from the pandemic, and a widespread shift towards reconsidering the work-life balance. Today, the battle to not only attract but retain top talent in the market is being fought, and one of the key components on this chessboard is brand. 
According to Glassdoor, 86% of employees and prospective hires will research a company's reviews and employee ratings before deciding on whether or not to apply for a job in that company. More so, 86% of women and 67% of men would not join an organisation with a bad reputation, says the same source.
2. Customer loyalty 
Customer loyalty is another result of a robust brand strategy and a measurable way that brand brings value to your business. According to Label Insight, 94% of customers are likely to show loyalty to a brand that offers complete transparency.
Customer loyalty is one of the most valuable tools that a brand has. In fact, according to Frederick Reichheld of Bain & Company, founder of the net promoter score, by increasing customer retention by just 5%, you can boost company profits by up to 95%.
1. Commercial growth  
By driving a considered brand that works from the inside out to allow its people and purpose to reach their fullest potential, you are opening a world of possibilities for creative and commercial growth. 
In 2021, Brand Finance released a report which documented the effects to household name brands should they negate their branding. The results were staggering: without a robust brand, the financial value of these hero brands dropped considerably. Illustrating the very real financial impact brand plays in business, the report says that companies could lose 25% of their enterprise value void of strong brand image.
With this in mind, investing time and consideration to ensure that you are cultivating a strong brand with a unique value proposition are essential. In addition, enabling your brand to flourish by investing in its culture and customer experience are key. By doing so, you are unlocking the door to endless opportunities for brand growth. 
If you are interested in discussing how brand brings
value to your business, drop us a line today
at proof@thepuddingbrand.com.