"If you are ready to step into the spaces you need to in order
to get the results you want… I think absolutely yes –
work with The Pudding. It is a learning experience that
delivers exceptional, immediate and strategic outcomes."
– Paul O'Kelly, Founder of Mylyn & client of The Pudding.
Today we caught up with Paul O'Kelly – client of and advisor to The Pudding – to talk about his recent brand development journey with us as he responded to increased demand for his services from existing and new clients.
Having been in the business for 35 years, Paul has worked with myriad clients – from homegrown startups to Fortune 200 companies. With this in mind, Paul's reputation has been a long time in the making, and it was a joy to work with him, developing a brand that is true to his ambitions for the business. Enter Mylyn.
1. Can you tell me about
yourself and what you do?
We work globally with purposeful leaders, leadership teams and often with entire organisations. Leaders come to us when they have a compelling question. This question may be around a difficult challenge, a threat or an exciting growth or change opportunity.
We address these questions through the lens of strategy, leadership, culture, and high-performance teams. We take a co-elevation approach with every client. Simply put: that means we take responsibility with the client team to design and implement what is required to deliver.
2. How did you first come to know about
and work with The Pudding?
We came to know of The Pudding through the work they did with Kemp Technologies and Renatus Private Equity. I saw that their approach engaged the broad Kemp team, challenged the leaders' thinking and harnessed the talents of their internal brand and marketing expertise.
What I have observed is that The Pudding are purpose-driven; they fuse brand, strategy, culture, and employee engagement. They are relentless about measurable outcomes. The Pudding's approach fitted perfectly with what we wanted to do when developing what we now call Mylyn.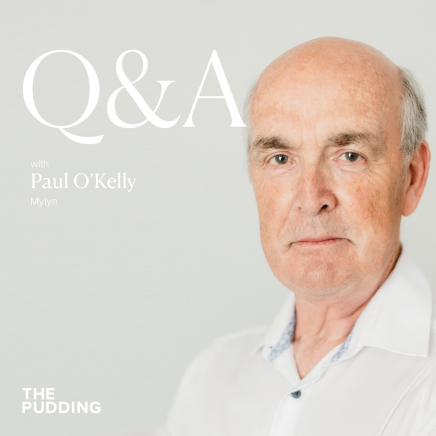 3. Can you talk me through the realisation
of the opportunity to create a new brand: Mylyn?
Mylyn is essentially a new business built on the foundations of lessons learned in the field. It is a response to two strong influences and a catalyst.
The first influence was building the capacity to serve the increasing demand from clients for longer, deeper and broader engagements. The second was the encouragement from clients and colleagues to codify the experience, embedding methodologies and lessons learned from my 30+ years of work.
The catalyst was collaborating with two colleagues, Nicola Colleran and Natalie Reid McEvoy. And, while I completed the altMBA with Seth Godin, I also identified an opportunity to work with two of my daughters: Caoimhe, a Global Change Director with a 29,000-person consulting firm, and Naoise, who had completed her MBA after 15 years of management and leadership experience.
4. How did you find the process of
working with The Pudding on developing Mylyn?
It was a very challenging process. It dug deep into what was important to each individual – our uniqueness and also what we had in common. The Pudding's process was powerful in building team understanding around the essence of what drives our work and the future direction of our brand.
They facilitated important conversations which helped fine-tune the articulation of our principles, the behaviours we expect of each other, and what we expect from our clients.
The Pudding did super work in listening deeply to our clients. Their research brought to light what clients experience and the unique value and impact we bring to them. This understanding helped us to invest more in building these strengths. Today, 20% of our work time is invested in research, learning, and performance improvement due to this.
5. Would Mylyn recommend working
with The Pudding to others?
Absolutely! If you are ready to step into the spaces you need to in order to get the results you want; if you have the courage to face tough questions and let go of old assumptions around the market, your core customer, your clients' beliefs and needs, I think absolutely yes – work with The Pudding. It is a learning experience that delivers exceptional, immediate and strategic outcomes.