"I want us to be the most desirable employer in this
industry and we are already gaining traction.
The Pudding is helping us to do that."
In the latest instalment of The Client Chronicles, we sat down with Martin Mangan, the General Manager of Carton House, A Fairmont Managed Hotel. 
Carton House has been a long time client of The Pudding and recently expressed a desire to improve its employer brand offering and become one of the most attractive hospitality employers in the country.
Here, Martin talks about the experience of working with The Pudding and how this work has improved the overall culture at Carton House.
1. When did you first hear
about The Pudding?
I had actually worked with Gillian in a previous role and have known her now for over 10 years. However, I came across The Pudding by chance. I believe it was through the Irish Hotels Federation and other networking events, but I had been aware of Gillian's work, particularly on the rebrand of the Irish Hospitality Institute (IHI) and the rebranding of Carton House before it became a Fairmont managed hotel. I was extremely impressed. And so, it has been a long relationship and has reached full circle in a brilliant way. 
2. What has the experience been
like working with The Pudding?
It's been a very positive experience overall. In the world of hotels, you will always be constrained by budgets, it's not the same as working for big business or corporate entities, but I will always try and push for more. Gillian was adamant that we would get what we paid for, and we did. I am particularly happy with the employer and careers element of the work. We have just gone live with a new employer branding page on the website and took part in the 'Culture Campus' which was so innovative. Improving the culture of the brand was vital for us and we knew the gap was there. The Pudding helped to fill it and the facilitation of it has been nothing but excellent.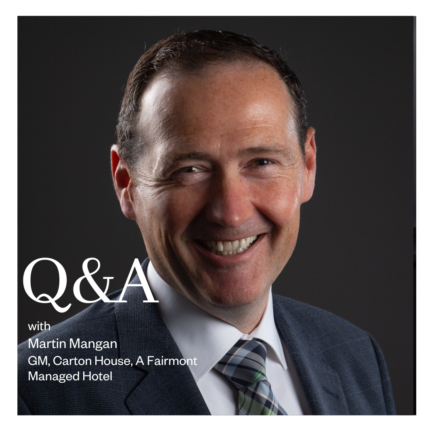 3. What were the cultural challenges at
Carton House and what has that journey been like?
We had to really look inwards and examine our internal processes and how we were viewed externally as a workplace and as an employer. We needed to change the perception of Carton House as an employer because we were in a very strong place from a product point of view, but we wanted both sides to align. There had been periods of instability in hospitality, there was a high turnover and it was difficult to attract staff. I recognised this, and realised we had to start from scratch.
We needed to change what we were doing in terms of retaining employees and we also needed to create a campaign to attract them too. We had to look at the team member experience, the journey, compensation, benefits and more. We are well on our way now and are already seeing improvements. This journey helped us see clearly where we are and where we need to go next and the steps needed to get us there. It's definitely a journey and it's one we will always be on, I think. It's a part of what we do, employer branding is our value proposition. I want us to be the most desirable employer in this industry and we are already gaining traction. The Pudding is helping us to do that. 
4. Throughout the project, Carton House engaged
in various workshops with The Pudding
– did you find the workshops useful?
Absolutely. Anytime you bring the team together, there will be benefits. It helps with strategic planning, team building, improving morale, getting to know each other better and it aids communication. It's great having external facilitators and taking these workshops and meetings off property where possible – this allows people to step away from their roles. For me, it was important to help the team to think differently and the workshops really pushed this idea forward.
5. And finally, would you recommend
working with The Pudding?
Yes, I am already recommending The Pudding to others. You most definitely get what you pay for in terms of quality. The results speak for themselves.