The Context
We began our partnership with Midlands Park hotel in 2020 when the hotel approached us to define their brand strategy and positioning and to refresh their brand identity. In 2021 we partnered again to develop a post-Covid lockdown reopening campaign, "The Joy Of", which resulted in an increase in bookings and enhanced awareness of, and engagement with, Midlands Park Hotel.
Based on the success of these projects, Midlands decided to partner with us on an ongoing basis, giving us the opportunity to work closely with the team to maximise the brand's potential and drive their business objectives. 
As one of the leading meetings and event providers in the region, Midlands Park Hotel identified conferences and events as a strategic growth opportunity for 2022. After nearly two years of closure, Midlands were eager to start generating corporate business again, and so they came to us to assist them in achieving their business goals.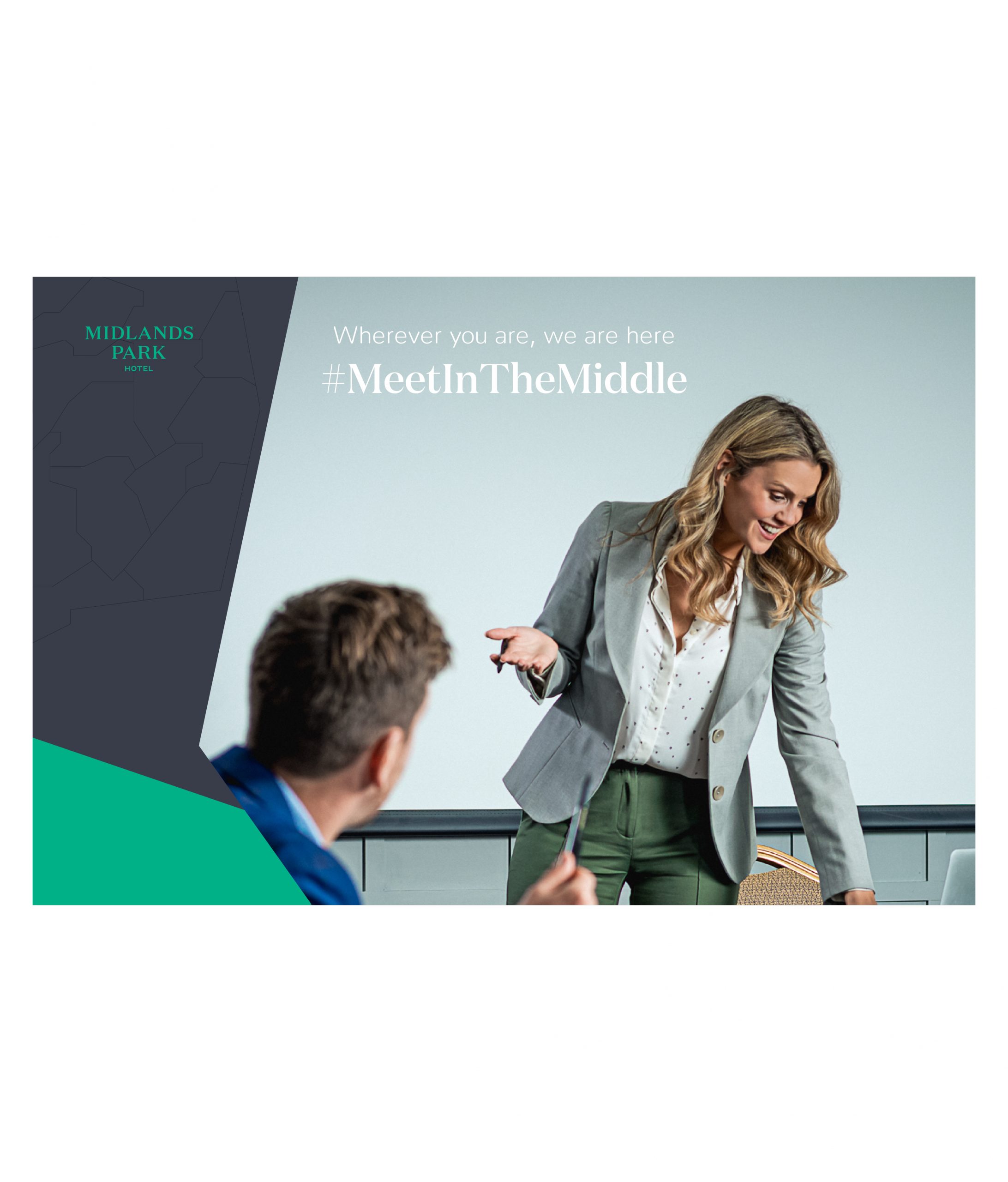 The Challenge
Following two years of closure, every meeting and events space was in the same position as Midlands Park Hotel: looking to attract new bookers and drive sales. The result? A busy marketplace with little differentiation between brands. 
To cut through the noise and design something distinctive that would motivate the brand's key booker personas, we needed to first understand their challenges. We explored a typical booking journey, analysing the pain points along the way and then worked to figure out how Midlands Park Hotel could solve those problems.
The Strategy
Through our research, we unearthed key insights into the booking process that would form the basis of our creative strategy. One of the biggest challenges for bookers is making the process as seamless as possible. Too often they find themselves faced with complaints over travel time, favouring one location over another, or being inaccessible to all. 
Ultimately, one of Midlands Park Hotel's most notable attributes is its location in the heart of Portlaoise, connected to all major Irish cities and but a stone's throw from the train station. Midlands Park Hotel are the quintessential #MeetInTheMiddle destination, for teams of all shapes and sizes. 
Therein lay the thinking behind our campaign: "Wherever you are, we are here", communicating that not only is Midlands Park Hotel the venue of choice due to location, but that no matter where businesses are in their journey, the hotel can cater to their needs.
"Wherever you are, we are here" is a layered campaign tagline that nods to the fact that wherever you are in terms of business growth – being a homegrown startup or large corporation – Midlands Park Hotel is on-hand to help you deliver your event or conference and exceed your expectations and goals.
The versatility of this campaign tagline is mirrored in the versatility of Midlands Park Hotel from a conference and meeting perspective. It targets those who value a sense of agility in event planning and long to feel that their business goals and booking experience will not only meet but exceed expectations in care, expertise and professionalism.
The Creative
A vibrant and compelling photoshoot that showcases Midlands Park Hotel's conferences and events facilities is at the heart of this campaign.
By exploring brand colour palettes and adding fresh tones, we were able to create a new suite of visuals that are a natural evolution of the brand's visual identity. 
In order to communicate #MeetInTheMiddle, the map and county borders played a significant role. Representing this both literally and subtly would be a top priority in order to ensure that the assets remained varied and exciting throughout the rollout.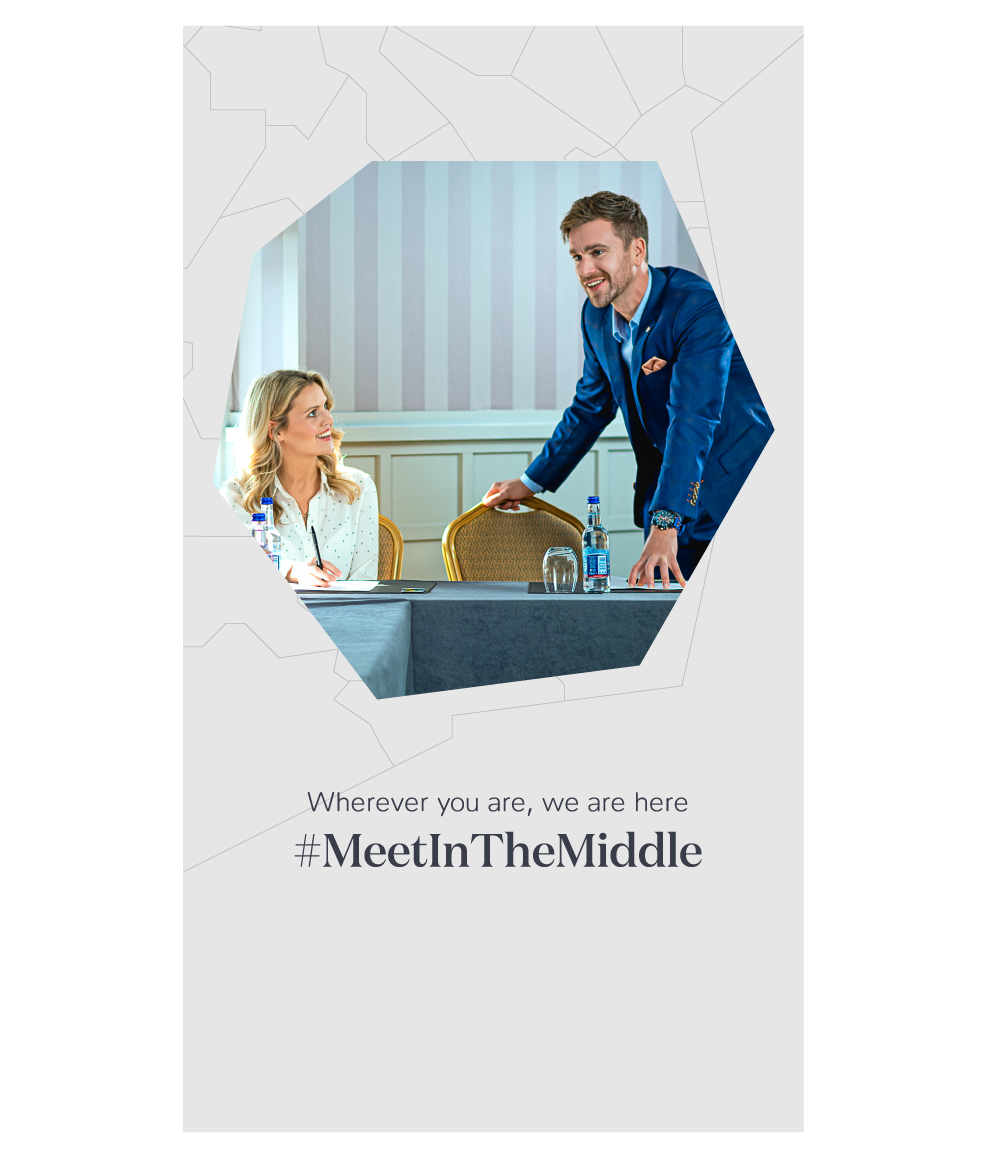 The Messaging
Messaging played a large role in the execution of this campaign. 
Embodying Midlands Park Hotel's unique tone of voice would be the first port of call when building out this campaign. At the same time, capturing the attention of bookers who would feel their business needs would be met and exceeded when working with Midlands Park Hotel would be crucial.
The campaign tagline, along with sub-slogans, were created and curated alongside the visuals to communicate that Midlands Park Hotel understand their bookers' business and challenges, and is a trusted partner in conference and events solutions.
The Proof
The end result of our meetings, incentives, conferences, and exhibitions (MICE) campaign for Midlands Park Hotel was a ready-to-launch cross channel campaign including, radio advertising, a suite of digital assets, hotel signage and a social rollout strategy designed to deliver on Midlands' goals for corporate enquiries and sales in 2022. 
The campaign launched on the 14th of February 2022 resulting in a 44% increase in corporate enquiries and a 36% increase in corporate sales from the previous period.