A conversation on the difference between brand versus reputation, the ones who are doing it right, and key learnings from 20+ years of experience
Paul O'Kelly is an Irish strategic consultant and business advisor. First starting out with a career in education and Irish sports, Paul went on to build successful brands and enduring businesses, ranging from fortune 500s to SMEs, in over twenty countries around the globe.
In addition to this, Paul O'Kelly is one of The Pudding's clients. Over the past couple of years, we at The Pudding have worked with Paul and his team. Our work involves strategising the creation of a new brand that represents the purpose, values and ways of working of his globally experienced team. Details of this launch will be announced later this year.
Today, we caught up with Paul to gain his insight on the recipe for success, the brands who are hitting the mark, and his advice on key learnings for leaders.
Can you tell me about your work and
what it is you do with brands and companies?
I work at that critical intersection of leadership, strategy, and culture. With this in mind, questions surrounding 'brand' always arise.
Fully integrating and aligning your brand with your culture and strategy improves your organisation's competitive advantage because it enables you to produce sustainable value that is difficult to imitate. Competitors may match what you offer customers and employees but your strategy should be impossible for anyone to embody. It is the why and how of what you do.
In your words, what is 'branding', and what are the
key fundamentals for a brand to succeed in today's market?
A brand must reflect the core purpose of the organisation. This includes what it stands for, how it is distinctive, and why customers and employees should care. The purpose must be real – especially for employees. They must believe in it and strive to deliver it every day in all they say and do.
For me, the brand captures the organisation's philosophy – this really came home to me when I worked on a short project with Jamie Fuller; the Skins brand book captured the essence of the organisation and the change it seeks to make.
The nexus of leadership, strategy and culture is
where your focus lies. Can you tell me more about this?
Over time, leadership determines the success of a business. It defines its growth, impact and determines its decisions. Therefore, for a company to be successful and live its purpose, it needs appropriate leadership.
Strategy is all about the choices businesses make to make this happen. For the strategy to be implemented and for the leadership to be effective, a brand needs a culture to make it happen.
Culture is your people and how you operate. The world is constantly transforming. Therefore, it is essential that leaders continually evolve their culture so that a company's culture can continue to thrive in the transforming world.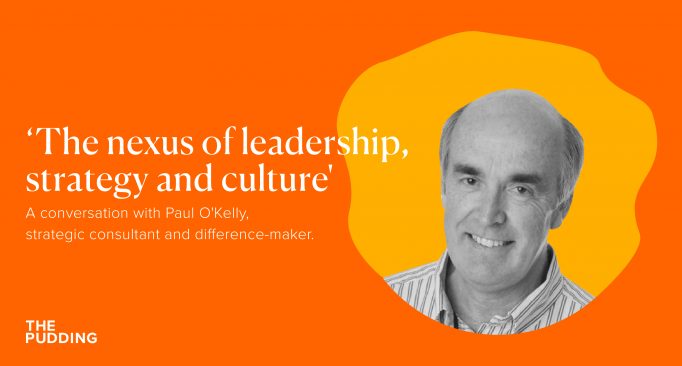 Are there any standout brands that you feel
embody these three essential aspects?
What it comes down to is living your truth, whatever that is. The focus of branding is to deliver precisely what you are communicating to your customers.
For example, a decade ago, Kemp Technologies were a forty-person company. Under a new CEO, Ray Downes, and co-founder Peter Melerud, they have grown to about 400 people. They have operations globally and commitment to culture, teamwork, and leadership.
An example of a purpose-driven commercial start-up is OPEN Cycle. Their philosophy is simple, "We've done the 'big company' thing, and it was time for something different. So we design the bike we want to ride ourselves, we produce them, sell them to like-minded people, and that's it."
A brand must be strong yet flexible, constantly evolving just as the culture, strategy and leadership must. A great example of this is the Etex Group in Belgium. We have worked with them for 25 years. In this time, Etex's brand and culture have intentionally renovated, building on its strengths
For young brands, what would be the one key piece
of advice you would give to unlock the potential
of their commercial and creative success?
Take the lead from Gerard Vroomen (founder of the aforementioned OPEN Cycle). Start by surfacing a deep understanding of your purpose.
Be clear on the philosophy, values, and culture you need to create an environment where your people can thrive and grow while delivering the vital difference you want to bring to customers.
Throughout your career, can you define one key learning
that has guided you in assisting brands in differentiating
themselves in an otherwise crowded marketplace?
It is the deep sense of responsibility to work closely with clients to discover the vital difference for their people and customers.
When you align the values and behaviours of employees and what is expected by customers, you attract and retain employees who feel an emotional commitment to your brand. This is where meaningful work and customer connection happens. This is where profit is generated to invest in innovation, which provides the opportunity to build more sustainable triple bottom line businesses.